If you are looking for a great place to eat around Lake Minnetonka, there are several great places to try. With offerings across the palate, there will certainly be a restaurant for everyone in the area.


1. Lord Fletcher's Old Lake Lodge
Located on the shores of Lake Minnetonka, Lord Fletcher's Old Lake Lodge is a historic neighborhood restaurant that first opened its doors in 1968. Being open this long means that they are doing something right, and that amounts to their being hailed for their friendly service and exceptional experience. This American restaurant is perfect for grabbing burgers, wings, and seafood dishes alongside your favorite beer, wine, or cocktail. Lord Fletcher's Old Lake Lodge is the place where lake life meets savory food.
2. Hazelwood Food and Drink - Tonka Bay
Located in Tonka Bay, Hazelwood Food and Drink is a great place for those looking for American foods with a touch of seaside living. Offering a menu full of delicious burgers, salads, steaks, and more, Hazelwood Food and Drink has options for everyone. Woodfired pizzas, pot pies, and Cajun favorites are also available in this establishment. Perfect for lunch and dinner throughout the week, Hazelwood Food and Drink also has weekend brunch and a daily happy hour for your favorite drinks.
3. Maynards
Sitting on a wharf in Excelsior, Maynards is another great option for those looking for American fare in the Lake Minnetonka area. Built on land previously occupied by the Excelsior Amusement Park, Maynard was established in 1998 and has been a local staple ever since. Locally owned and operated, Maynards is known for its waterfront dining, which results in unmatched views of the lake. Maynards' casual American fare matches the ambiance of the location, with a partnering bar that is perfect for watching big games. High-quality foods meet personable and friendly service to create a great customer experience at Maynards.
4. Vann Restaurant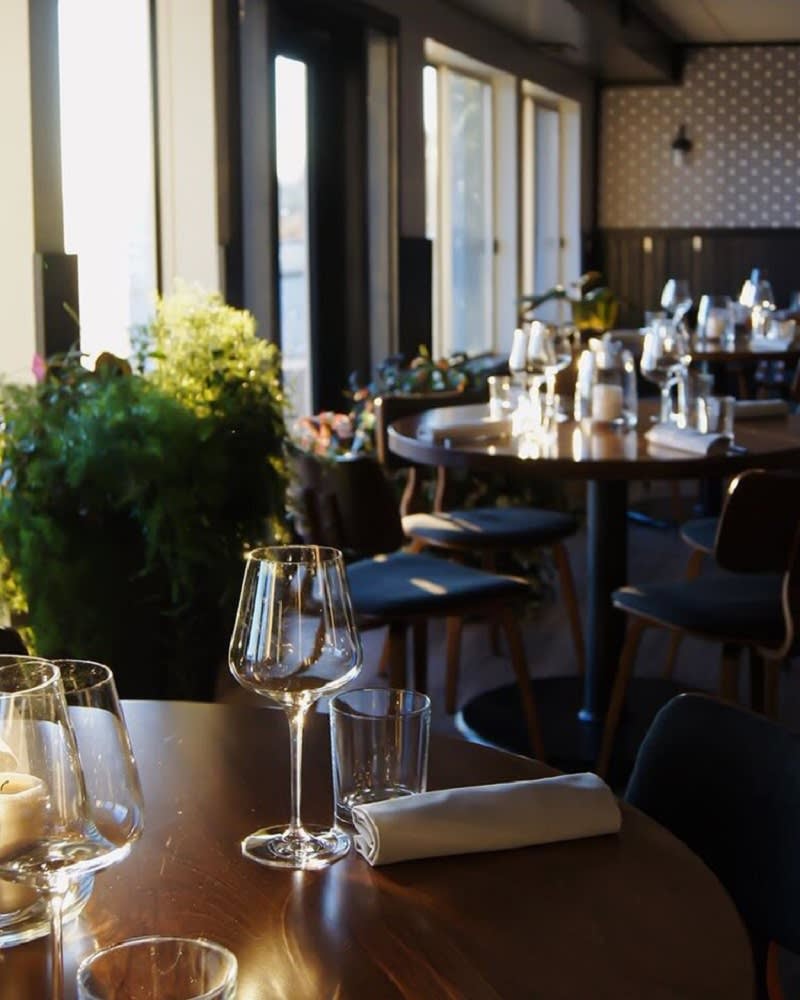 Image courtesy of Vann Restaurant

As one of the area's highest-rated restaurants, as well as being named "Minnesota's Best Fine Dining Restaurant of 2021", Vann is a New American restaurant located in Spring Park, Minnesota. Named the Norwegian term for water, this restaurant sits on the banks of Lake Minnetonka and serves a menu in which every item will delight the taste buds. Serving a single-page menu, Vann creates fresh seafood dishes to be enjoyed in their bright and modern dining room. Served alongside an extensive wine list, Vann Restaurant is an elegant waterside experience.
5. Surfside Bar and Grill
Surfside Bar and Grill is a locally owned and operated restaurant that opened in April of 2016. Located in Mound, Minnesota, Surfside Bar and Grill offers a wide range of foods, including bar fare, burgers, sandwiches, and seaside favorites. With a happy hour Monday through Friday, Surfside Bar and Grill is the perfect place to stop for a drink and catch up with friends and family while enjoying water views and delicious foods.
6. Al & Alma's Supper Club and Charter Cruises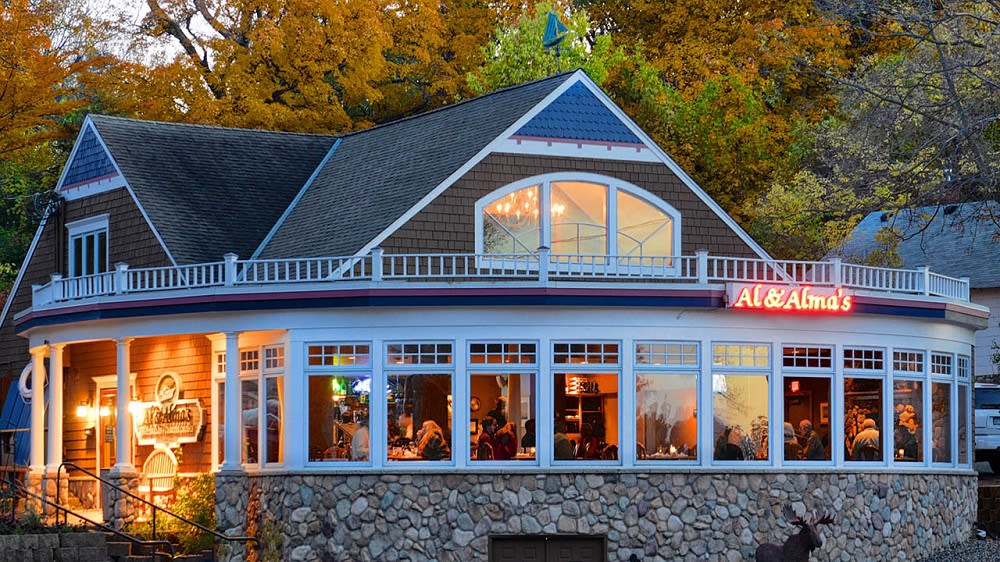 Image courtesy of Al & Alma's Supper Club

Founded in 1956 by namesake Al and Alma Quist, Al & Alma's Supper Club is a dinner-only restaurant and is known as Lake Minnetonka's longest-running restaurant as well. With recipes spanning three generations of the family, Al & Alma's Supper Club is a Modern American restaurant serving steaks, seafood, and homemade desserts. With both intimate couples seating and larger group tables available, Al & Alma's is perfect for dates and family gatherings. Despite its 'Supper Club' moniker, Al & Alma's Supper Club is open to everyone.
7. Dakota Junction
Dakota Junction is a charming restaurant in Mound, Minnesota that sits alongside a bike trail. Serving classic American dishes made from fresh, local ingredients, Dakota Junction's menu is full of tasty options. Whether you want a burger, taco, or salad, this restaurant will delight both your eyes and your taste buds, as each dish is wonderfully presented to match its elevated flavor. With more permanent menus and a revolving weekly featured menu, Dakota Junction will always have something exciting to try for any meal. Open for lunch and dinner every day of the week, this location also offers a weekend brunch menu.
8. The Lake Room
Located in Navarre, The Lake Room is one of Lake Minnetonka's most recent restaurants to enter the lineup. Offering premier New American dining, The Lake Room has an elegant and friendly ambiance that elevates your dining experience. With inspired seafood and gourmet pizzas being the stars of the menu, gourmet burgers and weekly specials hold their own amongst the options available at this location. Whether you want a blissful date night, have a family gathering, or host a private party, The Lake Room will dazzle its patrons with delicious foods and high-quality service.

If you are looking to make the move and take advantage of the many delightful restaurants in this area, there are many beautiful Lake Minnetonka homes for sale. Whether you are looking at buying one of the luxurious Lake Minnetonka mansions or buying a lot to build your own dream home, there will be something perfect for you. If you would like help along your journey of buying property in Lake Minnetonka, Matt Lill and his team would be happy to help you at any step of the way. Contact Matt Lill and Partners today!

*Header image courtesy of The Wharf at Lord Fletcher's